Stacy's Music Shop was started in 1945 by Carl "Monk" Stacy. It was his dream to open a record shop after he was done working in the Norfolk navel shipyards during World War II.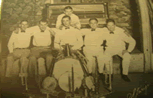 Being a very accomplished musician, Carl was in a fairly successful dance orchestra band in the mid 1920's, and saw that Charlottesville needed a source to purchase prerecorded music. So when the war came to an end he used his life savings and opened Stacy's Music.
Throughout the 40's, 50's, and 60's, Monk ran the business with his wife Mary and younger son Carl Jr. It wasn't until the early 1970's that Carl Jr. purchased the store from his father and continued the legacy throughout the mid 90's. It was Carl R. Stacy Jr. who transformed the business from mainly record sales to the instrument retail shop it is today.
Stacy's Music is still a family run business a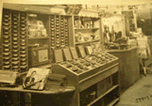 nd is now in its third generation of ownership. Shep Stacy, Monks grandson, now oversees the daily operations of the business.  To continue the legacy that his father and grandfather created, Shep has added a recording studio and extensive lesson program to satisfy the needs of budding musicians.  Stacy's Music remains one of the oldest businesses in Charlottesville, and the best music shop for private music instruction and musical instruments in the area.